DIY Mug Art! The gallery you see below features mugs decorated with Sharpie/porcelain pens. It's pretty exciting to think that you could design mugs with just a pen. Just think of the endless design possibilities – no limitations, especially if you have the talent!
But as some of you might have guessed or already know, decorating mugs with pens is not as easy as we hoped it would be. Several DIYers have shared their experiences and there seems to be no one sure fire way to successfully do it – meaning making designs that are guaranteed dishwasher safe. One method produced varying results for different people. 🙁
We've read and compared the different techniques and below are the steps that produced great results for most, if not all, attempts:
Choose a cheap, oven safe porcelain mug – you don't want the mug with expensive, high quality glaze.
Clean and wipe mug with rubbing alcohol to get rid of residue/oil on the surface. Be careful not to touch your drawing surface at this point.
Draw your design using a regular Sharpie or porcelain paint pens, then let design to air-dry for at least 24 hours.
Place mug in a cool oven. Turn on oven to around 400 degrees F and bake for 30 minutes. Turn off oven, but leave mug in slightly opened oven until it has cooled. Air-dry for another hour.
You can choose to re-glaze your mug with krylon spray to protect your design.
It is recommended to just hand wash these mugs, but of course you can always try it in the dishwasher. ?
Again, this particular method is only a compilation of steps that produced mostly positive results. Situations may still vary and this is simply a suggestion to minimize the risk of your design disappearing in the wash.  It doesn't guarantee success. But if you're in to try it, we're hoping it will turn out perfectly for you 🙂
What we can guarantee though, is that these photos below would inspire you to create your own masterpiece!
Sharpie Mug from Ghost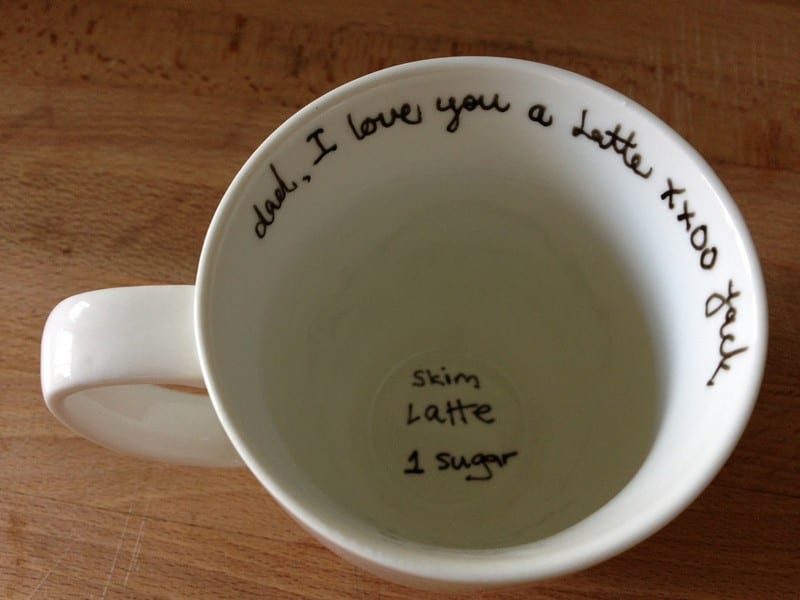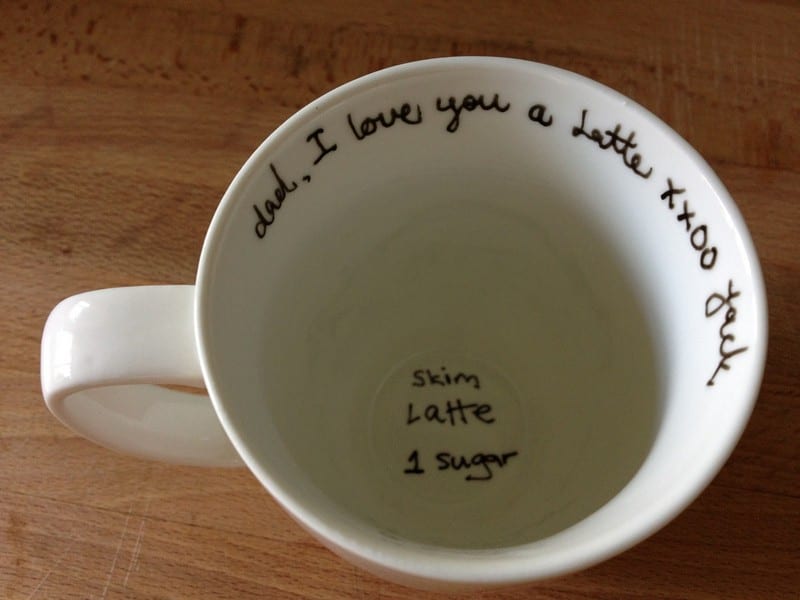 DIY Father's Day Mug from Dx3 by Kelly Turner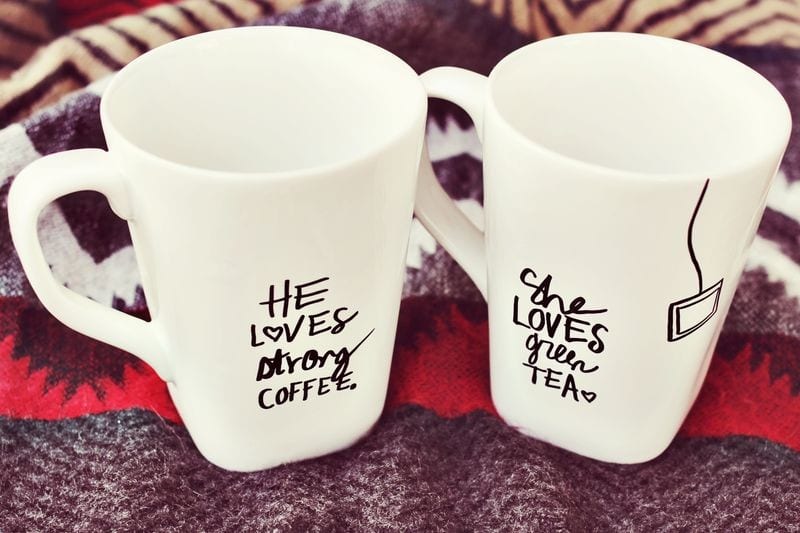 His + Her Sharpie Mug DIY from A Beautiful Mess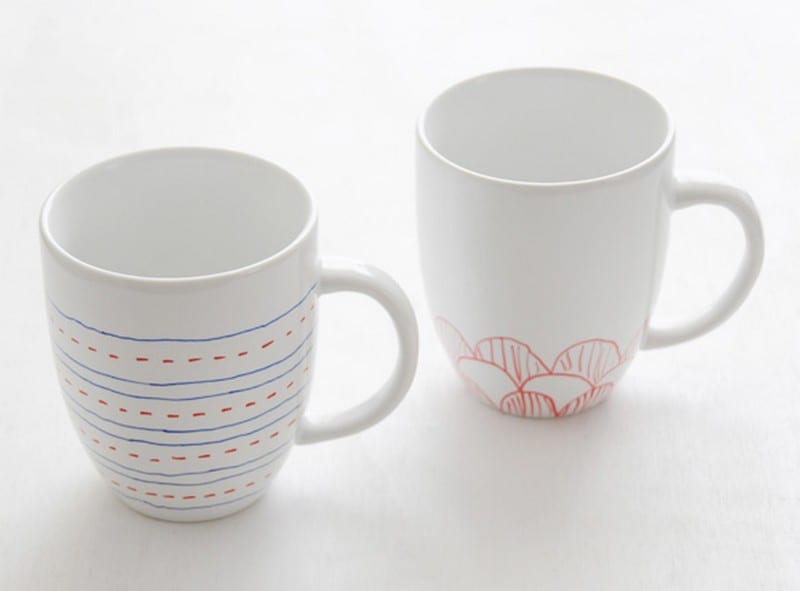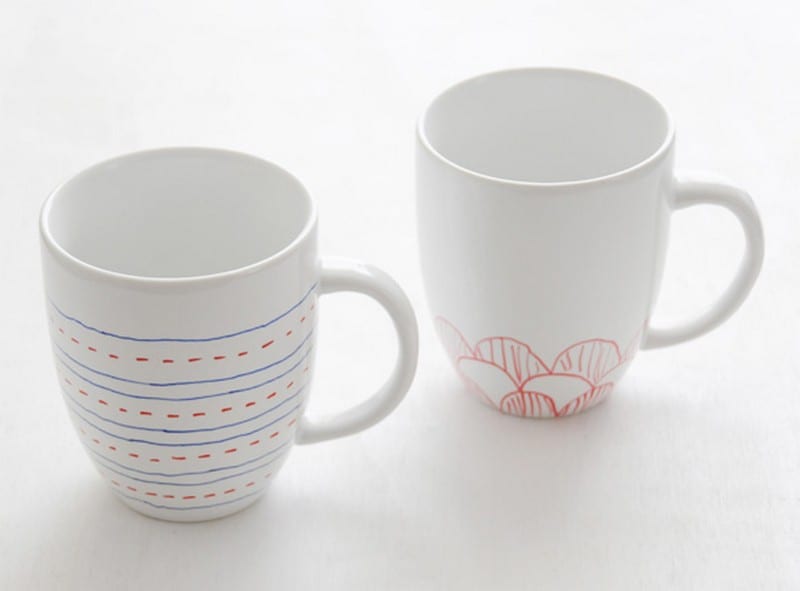 DIY Simple Custom Painted Mugs for Teachers + More from Creative Comforts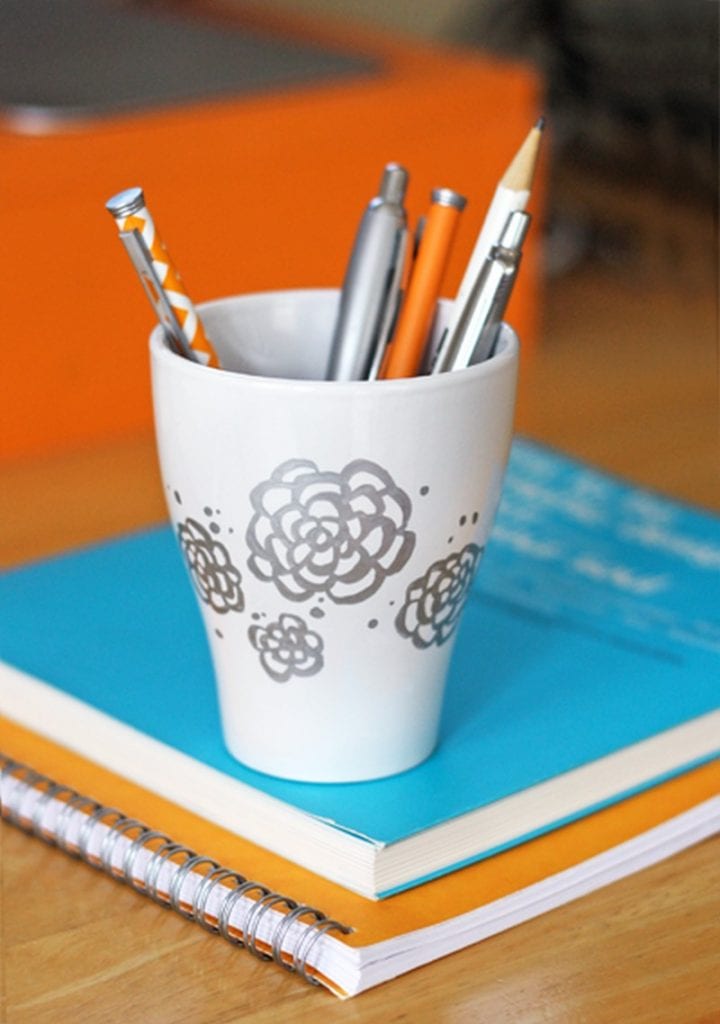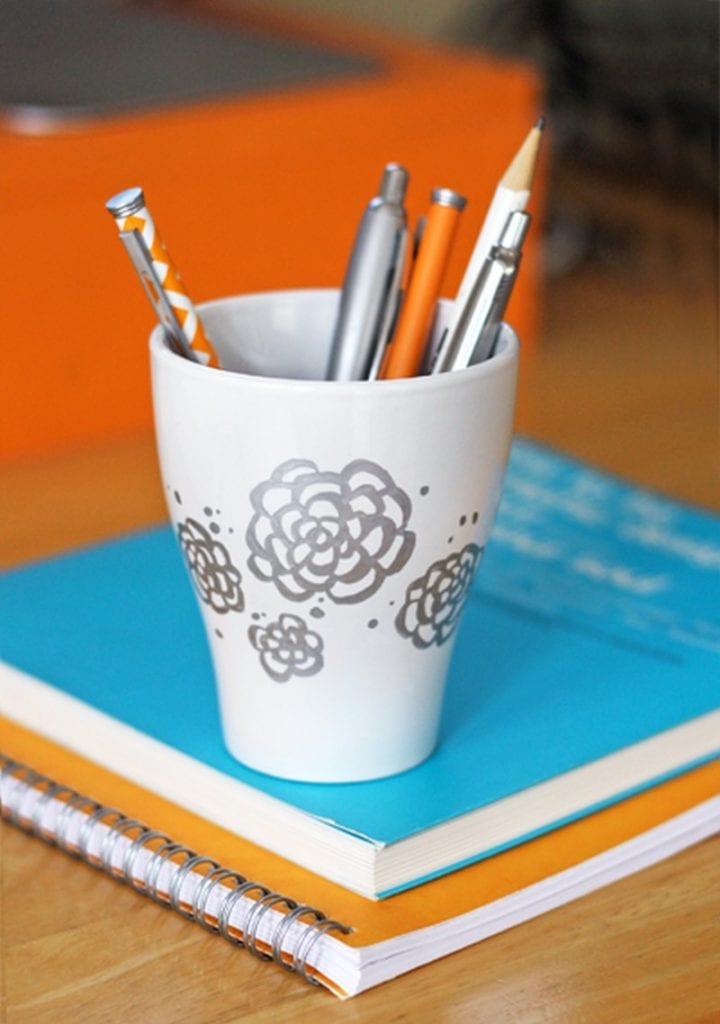 Metallic Oil-Based Sharpies from How About Orange
DIY Mug found on My Perfect Line
DIY Mug found on My Perfect Line
DIY Painted Feather Mugs from Refresh Bug
The Four Seasons Birch Tree Collection of Personalized Mugs found on Mary Elizabeth Arts
DIY Mug from Good and Messy
Mug Decorated with Pen from Organize sem Frescuras
DIY Sharpie Mug from The Yarn to Tell
Mix tape DIY Custom Mug found on Etsy
Literary Quote Mugs from Sarah Fritzler
DIY Mug from sohesten
Porcelain Decoration Tutorial from Carina's Craftblog
Long Distance BFF Mugs from Southern Mess
Having second thoughts about using a pen? Here are a few other ways to decorate your mugs!
Mug Ardoise from Cherry Plum
Handpainted Mugs from homedit
Watercolor Mug from Poppytalk 
Gold Wins from Garland of Grace
Feeling inspired? Don't forget to share with us your attempt at designing your own mug! 🙂